Legacy Employee
Health Plan Information
New pharmacy benefits
Effective January 1, 2022, your pharmacy benefits will be administered through PacificSource and CVS Caremark. You will need to present your new ID card to your pharmacy when you pick up prescriptions starting January 1, 2022. There will be minor changes to your benefits, so please check your Legacy Employee Benefits Guide, InTouch, and the Summary of Material Modification. Your drug list is called "Preferred PDL." You may access your prescription information online through InTouch or at Caremark.com.
Advantages of getting prescriptions filled at Legacy Apothecaries
Get a 90-day supply of medications for the cost of a 60-day supply.
Most specialty pharmacy medications will continue to be available through Legacy Apothecaries.
Using Caremark pharmacies
Most major pharmacy chains, including CVS, Walgreens, and Rite Aid, as well as many independent pharmacies, are in network. Check Caremark.com to ensure your pharmacy is in network.
Get up to a 90-day supply of maintenance medications at one time through retail pharmacies. (Prescriptions will need to reflect a 90-day supply.)
Diabetic supplies
Diabetic supplies, such as meters, continuous glucose monitors, lancets, needles, and syringes, will be covered now under your pharmacy benefit in addition to your medical benefits.
Some diabetic medications may no longer be on your drug list. Be sure to check the drug list to make sure your medication is still included. If your medication is no longer listed, please contact your doctor to discuss your options.
What has changed?
Over-the-counter medications are no longer covered unless they are prescription strength and you have a prescription from your provider.
A compound medication will only be covered if drugs on your drug list are not effective and the prescription has received prior authorization.
There will be a lifetime maximum applied to infertility medications. (You must meet a specified waiting period to be eligible for infertility benefits.)
Legacy+ Network
Your medical plans cover eligible services and supplies from Legacy+ network facilities for enrolled employees and dependents. All labs and advanced imaging services must be provided at a Legacy Health facility. Please give this notice to your providers when seeking care: Legacy Employee Health Plan: Crucial Information for Providers
Out-of-network coverage is not covered except for:
Medically necessary covered services not available through the Legacy+ Network*
Urgent and Emergency Care
Diabetic supplies (also available through CVS Caremark) 
*Prior authorization from PacificSource is required before services are rendered.
Please note, there is not a benefit for out-of-network alternative care. You will need to go to in-network chiropractors, acupuncturists, massage therapists, and naturopaths in order to have these services covered under the plan.
Note about lab work
and imaging
If your provider is not a Legacy Medical Group provider and you need lab work, ask for a written order and take to a Legacy Laboratory to have your labs drawn and processed. You must also go to a Legacy facility for services such as mammograms, and all advanced imaging such as CT scans, MRIs, etc. Your provider may not be aware that out-of-network providers and facilities are NOT COVERED under your employee health plan.
Please give the notice, "Legacy Employee Health Plan: Crucial Information for Providers," to your providers. This notice informs them about sending your labs, advanced imaging referrals, and so on to only in-network Legacy providers and facilities. 
Manage your benefits and health, 24/7
Sign up for InTouch for secure, online access to your plan's benefits. Plus tools and resources to support your well-being.
Mobile apps
The free myPacificSource and myPacificSource Admin (PSA) mobile apps let you manage your benefits, wherever you are.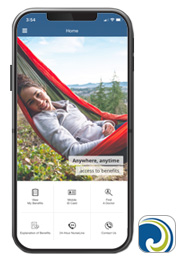 myPacificSource app:
Access your ID card, anytime.
Call our 24-Hour NurseLine.
Find a provider, hospital, or urgent care center.
Check your deductible and out-of-pocket totals.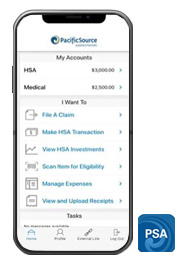 myPacificSource Admin (PSA) app:
Manage your FSA or other reimbursement accounts
Download the app today, and log in with your PSA account username and password.
 


Find a drug
Starting January 1, 2022, your pharmacy is with PacificSource and CVS, not MedImpact.
Use the search field to see if a prescription drug is covered by your plan: Simply select the year and "Preferred (PDL)."
Other prescription drug information
Enhanced Drug List offers top value
The Enhanced Drug List for Legacy employees is a benefit that allows certain drugs to be covered with a $5 copay. Most diabetic supplies are covered at 100%. This list is a separate benefit from preventive drugs covered under the Affordable Care Act.
Utilization Management
For certain prescription drugs, we have additional coverage requirements or limits. Learn more about utilization management, including prior authorization, quantity limits, and step therapy.
Affordable Care Act Standard Preventive No-cost Drug List (CVS Caremark)
The ACA Standard Preventive No-cost Drug List contains medications required by the government to be available at no cost to members of a health insurance plan. The list is maintained by CVS Caremark.  
Find a pharmacy
Get your prescriptions at the best price through a Legacy pharmacy. Specialty drugs and home delivery by mail are also available.
The Apothecary–Legacy Mount Hood
24800 SE Stark
Gresham OR 97030
503-674-1597, fax 503-674-1650
The Apothecary–Legacy Emanuel
501 N Graham
Portland OR 97227
503-413-4225
Fax 403-413-4515
The Apothecary–Legacy Good Samaritan
1040 NW 22nd Ave Suite 100
Portland OR 97210
503-413-8122
Fax 503-413-8453
Legacy Meridian Park Community Pharmacy
19300 SW 65th Ave
Tualatin OR 97062
503-692-2662
Fax 503-692-7437
Woodburn Pharmacy at Woodburn Health Center
1475 Mt Hood Ave
Woodburn OR 97071
971-983-5290
Fax 971-216-0090
Legacy Apothecary-Legacy Salmon Creek
2121 NE 139TH St, Suite 310
Vancouver WA 98686
360-487-3700
Fax 360-487-3709
Your pharmacy, dental, and vision benefits




Pharmacy Coverage
Need prescription drugs? Your pharmacy benefits are provided by PacificSource and CVS Caremark.
Starting January 1, 2022, your pharmacy is with PacificSource and CVS Caremark, not MedImpact.
971-222-1050 (local Portland area, M-F, 7:00 a.m. to 5:00 p.m.)
844-520-5347 (toll-free)




Vision Plan
Vision coverage is offered through EyeMed

Quitting tobacco
for good
The Quit For Life tobacco cessation program is brought to you by the American Cancer Society® and Optum®. 
There is no cost to participate
PacificSource covers unlimited quit attempts
You'll receive ongoing support throughout the process



CaféWell
Support your health goals with:
Personalized health resources and action plans

Activities, wellness challenges, and expert health coaching

Communities of health experts

Helpful tips and articles on a variety of health and wellness topics




Flexible Spending Account
Manage your FSA account from the convenience of your home, office or phone.
View account information
Submit a claim
Update your personal information
Change your direct deposit preferences
Download the MyPacificSource Admin app for iOS or Android to access your account on your mobile device.
Legacy Employee health plan news
FSA can now be used for over-the-counter products
The CARES Act permanently reinstated over-the-counter products as eligible expenses for flexible spending account (FSA) funds without a prescription. This reverses laws put in place by the Affordable Care Act nearly 10 years ago, which stated that those expenses were only eligible for reimbursement with a prescription.
Includes menstrual care products
As part of the legislation, menstrual care products were added as eligible expenses. That means employees can now use their HSA, FSA, and HRA funds to purchase items such as tampons, pads, and menstrual sponges. This change, and the general over-the-counter change above take place retroactive to January 1, 2020. 

Additional changes to FSA accounts
For the 2021 and 2022 plan years, the full amount in your FSA Health Care and Dependent Care account can be rolled over into the next year.  This is a change from the previous limit of $550 that could roll over from your Health Care account and $0 that could roll over from your Dependent Care account to the next plan year.  Rollover funds will be available after the runout claims for the prior year are processed, by the end of April.
Available funds in your dependent care account may now be used for work-related care or care while looking for another job, after being laid off or terminated from employment with Legacy.
 
Use in-network Legacy providers for labs and imaging
Please give the notice, "Legacy Employee Health Plan: Crucial Information for Providers," to your providers. This notice informs them about sending your labs, advanced imaging referrals, and so on to only in-network Legacy providers and facilities. Your provider may not be aware that out-of-network providers and facilities are not covered under your employee health plan.

Authorizations to use/disclose Protected Health Information (complete and sign 

both

 medical and FSA forms) 

Reimbursement forms