Promoting health equity since 1992


 
About the Foundation
The PacificSource Foundation for Health Improvement is an independent, private foundation, not connected to any PacificSource entity. We are focused on finding ways to improve access to high-quality healthcare for everyone –with an emphasis on helping under-served and vulnerable populations. Serving communities statewide in Oregon, Idaho, Montana, and within the following areas of Washington State: Clark, Pierce, and Spokane Counties.
Equity Statement
At the PacificSource Foundation for Health Improvement, we believe everyone should have opportunities for a healthy life and community—regardless of resources, circumstances, or identity. To achieve this, we seek to advance equity, honor diversity, and foster inclusion throughout our work. This, in alignment with our values, will enable us to learn from, collaborate with, and foster the inherent power of the communities with which we partner. Together we can work toward health equity and help provide the resources, support, and opportunities people need to achieve good health and well-being.
Grant programs and funding priorities
Strategic & community-based grants
One-year and multi-year funding to:  
Improve healthcare access by removing barriers to care for vulnerable populations.
Support healthcare innovation focused on care coordination models, technology, and enhanced processes and policies.
Promote health and wellness related to fitness, nutrition, tobacco cessation, parenting, and childhood development.
COVID-19 relief & recovery grants
One-year funding to:
Support access to direct healthcare services for vulnerable populations. Increased priority given to requests related to behavioral health.

Support organizations serving vulnerable populations disproportionately impacted by COVID-19, including assistance with social determinants of health and basic needs.
Healthcare Access Partners program
Five-year funding to:
Provide stable funding, technical assistance, and shared learning opportunities to community supported clinics and healthcare safety net providers.
This program is by invitation only. See "Grant application process" below for more information.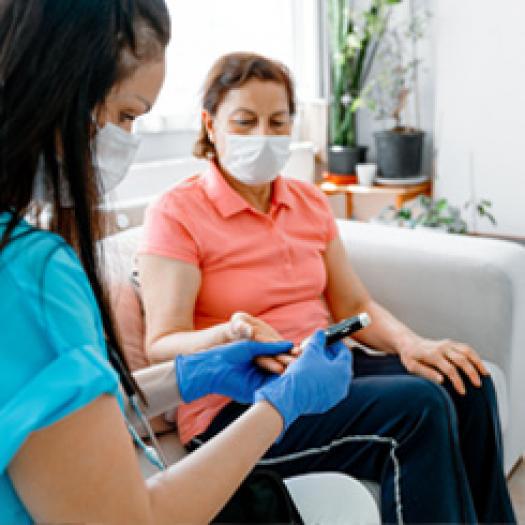 Grant application process
1. Submit a letter of intent (LOI).
- Log in to our online grant portal or create a new account (click button below).
- Click the "Apply" icon from the top bar.
- Click the blue "Apply" button next to "2021 Foundation Grants."
2. If invited, submit application.
We extend invitations quarterly for community-based and strategic funding requests and periodically for COVID-19-related requests.
3. Await notification.
We will communicate grant application results directly with the applicant (see schedule below).
 
2021 Grant cycle schedule
This schedule is for strategic and community-based grant applications; it does not apply to requests related to COVID-19, which we review periodically to remain as responsive as possible.
Dates are subject to change.
 
Third quarter

Letter of intent deadline: April 23

Application window: May 3 – 21
Fourth quarter

Letter of intent deadline: July 23
Application window: August 2 – 20