How to read your explanation of benefits
Your EOB is a statement that shows health services you had (such as an office visit), the amount your health plan paid, and what you may still owe to a healthcare provider.
You can access EOB statements on our member portal, InTouch, or in our mobile app.
---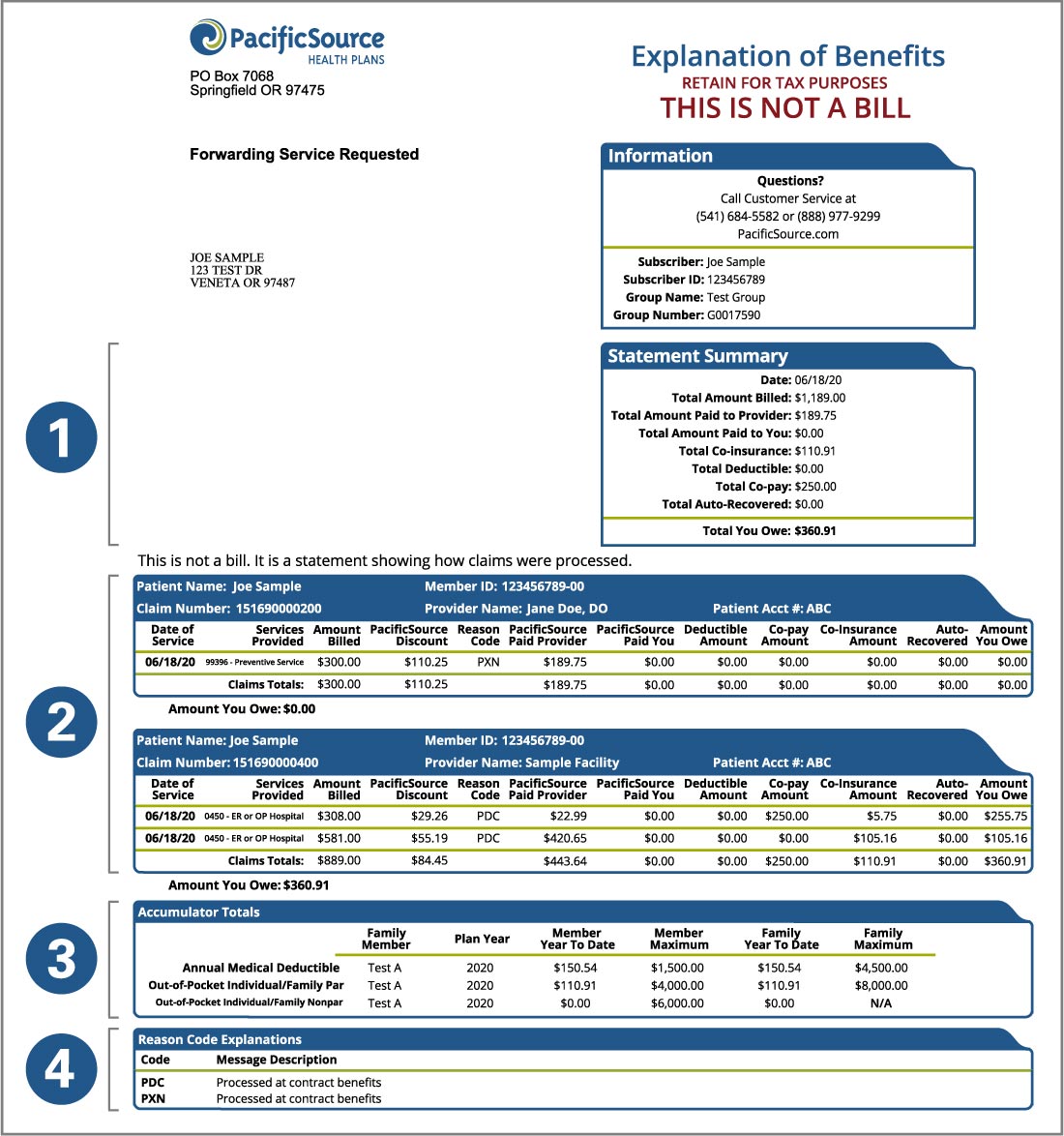 The four sections of your EOB



1. Statement Summary
This section is a summary of the three-week statement period. It includes:
Totals dollar amounts your doctors billed PacificSource for services provided to you or a covered family member

Amounts paid to your providers

Cost-sharing amounts, such as copays, coinsurance, or deductible
2. Claims Details
EOBs sent by mail will consolidate claims for a three-week period in a single statement, so you may see multiple claims here.
Here you'll see details for each claim submitted to PacificSource, including:
The date the service was received.

The service provided. Providers assign a code for each service they perform, so you may see several service codes for the same visit.

The amount billed for that claim.

How your benefits covered the claim. "PacificSource Discount" is the discount you received if the provider is in your plan's network.
3. Deductible Totals
This section shows you:
How much of your plan's deductible you've met this year. The deductible is the amount you owe for healthcare services before your plan begins to pay.

Some plans have both a per-member deductible and a per-family deductible.

Some plans have a separate deductible for out-of-network providers.

The amount you have paid, year-to-date, for healthcare services

Your plan's out-of-pocket maximums. This is the most you are expected to pay

before your plan pays 100% of the allowed amount.
Totals in this section are based on claims processed through the date on the EOB.
4. Reason Code Explanations
This section explains why we processed the claim the way we did. Here are a few reasons a claim might not be paid as expected:
We may need more information from you or your provider.

Your provider's charge for a service may exceed our allowed amount. This is more likely if you visited a provider who is not in your PacificSource network. 

The service may not be covered by your plan.

You may have exceeded your plan's limit for a particular service.